What is it?
Amazon Echo is a hands-free speaker you control with your voice. It connects to the Alexa Voice Service to control your Somfy Home Alarm Advanced System. You can control your Somfy Protect System with the Amazon Echo, Tap and Dot.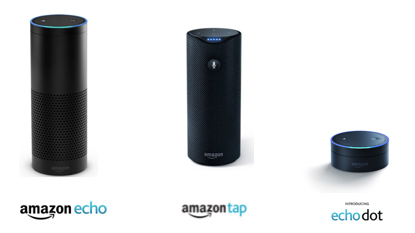 What can I do with it?
With it, you can:
Activate and deactivate your alarm
Open and close the camera shutter
Get the daily or weekly summary of your events
Enable night mode
Trigger the siren
How to setup ?
The setup is really simple :
1. Download the Amazon Alexa App, if you don't have it yet.

2. Go to the Skills section and type "Somfy Protect".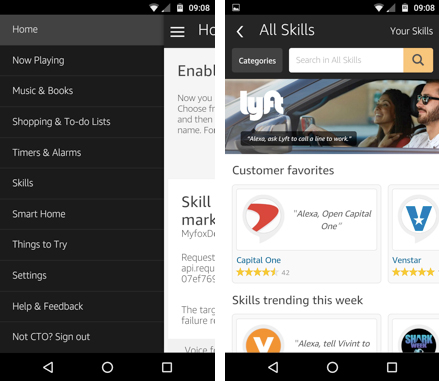 3. Enable the skill by entering your Somfy Protect credentials, the one you use to log into your Somfy Protect app.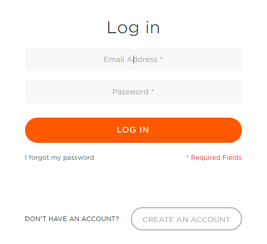 4. When the skill is enabled, say « Alexa, start Somfy » and you're good to go.
How to change my passcode?

You have to select a passcode to protect your isntalaltion. This passcode is needed to disarm the alarm.. All is done by voice but you can change this Alexa passcode in your App.
Go to : Settings > Smart Home > Amazon Alexa > Change my Alexa Passcode.
You have to enter a new one and re enter it again to validate it.
How to change site?
In canse you have several installations with your Somfy Protect Account, you can select the one you want to control with Amazon Alexa.
You can change your default site inside the App :
Go to : Settings > Smart Home > Amazon Alexa > Change my default site.
Troubleshooting
Just ask alexa « Alexa, how to use Somfy » to get accurate help.
Available commands
Here is the full list of available commands by categories :

Activate the alarm:
Arm
Arm the site
Arm my site
Arm the installation
Arm my installation
Arm the alarm
Arm my alarm
Arm Somfy
Arm Somfy system
Arm Somfy installation
Arm Somfy alarm
Arm the security system
Arm Somfy alarm system
Turn on the alarm
Turn on the alarm system
Turn on the security system
Activate my alarm
Activate the alarm
Activate the alarm on my site
Activate the alarm at my site
Activate the protection
Activate the alarm system
arm my system
turn on the system
Activate Somfy
turn on Somfy
Deactivate the alarm:
Disarm
Disarm the site
Disarm my site
Disarm the installation
Disarm my installation
Disarm the alarm
Disarm my alarm
Disarm Somfy
Disarm Somfy system
Disarm Somfy installation
Disarm Somfy alarm
Disarm the alarm system
Disarm the security system
Turn off the alarm
Turn off the siren
Deactivate my alarm
Deactivate my site
Deactivate the alarm
Deactivate the site
Deactivate the alarm on my site
Deactivate the alarm at my site
Deactivate the surveillance
Deactivate the protection
Turn off Somfy
Deactivate Somfy
Turn off the security system
Turn off the home alarm
Night mode:
Somfy night mode
Night mode
Activate night mode
Activate the night mode
Turn on the night mode
Turn on night mode
Launch night mode
Enable night mode
Enable the night mode
Turn on night mode
Switch to night mode
Switch to the night mode
Shutter:
Open shutter
Open shutters
Open all shutters
Open the shutter
Open the shutters
Start recording
Start watching
Raise privacy mode
Disable shutter
Disable the privacy
Turn off the privacy
Turn off the privacy mode
Deactivate privacy
Deactivate the privacy mode

Close shutter
Close shutters
Close the camera
Close all the cameras
Close all shutters
Close the shutter
Close the shutters
Stop recording
Stop watching
Turn on the privacy
Turn on the privacy mode
Turn on privacy
Turn on privacy mode
Activate privacy
Activate the privacy mode
Activate privacy mode
Close the shutter
Close the shutters
Events:
Events of the day
Events today
What are the events today
What events happened today
What happened today
Tell me what happened toady
Is anything happened today
Give me the events
Give me today events
Anything special today
Tell me what happened today
Did anything happen today

Events
Events of the week
Events this week
What are the events of the week
What happened this week
Tell me what happened this week
Is anything happened this week
Give me the events of the week
Anything special this week
Anything special today
Important events today
Give me the critical events of today
Tell me the critical events of today
What are the important events of the day
Site:
Change my default site
Change site
Switch site
Change installation
Change my default location
Change location
Switch location :

Select site {site number}
Choose site {site number}
Switch to site {site number}
Pick site {site number}
Number {site number}
Passcode:
Change my password
Set a new passcode
Change my passcode
Set a new password
my password is {password}
my passcode is {password}
my new password {password}
my new passcode is {password}
{password}
trigger the siren
trigger the alarm