Procedure
WARNING! Turn the power off before touching any electrical installation. Working on an electrical installation is hazardous. If you are not qualified to do so, use the services of a qualified professional.
1. Check the camera power supply
Ensure the product is disconnected from the power (disconnect the power supply at the fuse box or unplug the power supply)
Unscrew the security screw underneath the camera and then remove the camera from the mounting plate
Check your electrical connections in accordance with the user guide and the following article
Electric installation of the Somfy Outdoor Camera.

Reattach the camera to the mounting plate, remembering to return the security screw beneath
Reconnect the power and wait for the camera to restart
2. Reboot the Somfy Outdoor Camera
Reboot the camera by using the pin provided with the user guide (a paper clip will also do the trick). The pin should be inserted in the hole located in the rear of the camera.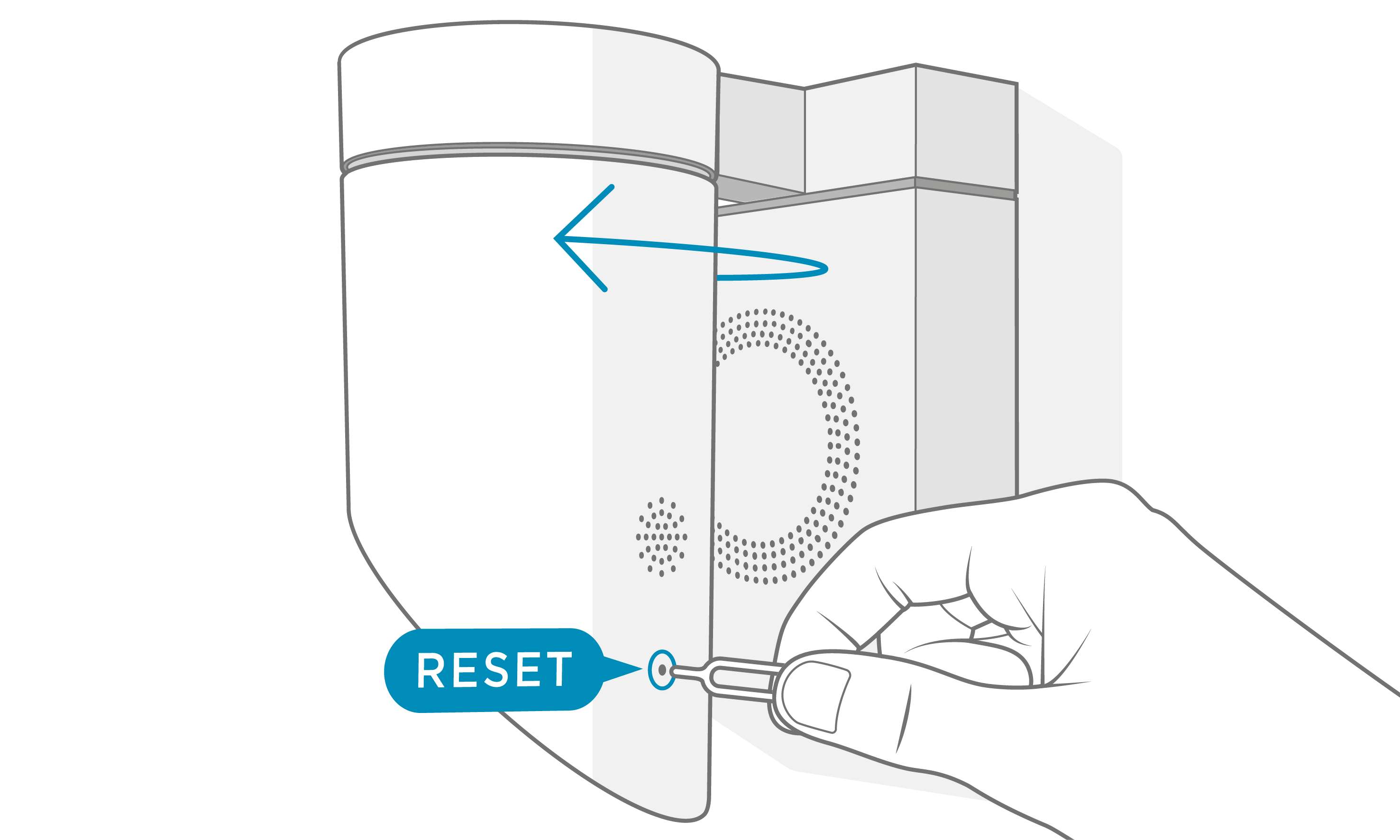 Insert the pin and press it for about 12 seconds until you hear a tone. If nothing happens, insert the pin again, first briefly, then wait 10 seconds, then insert it again until you hear the tone.
The camera is ready to be reinstalled.
3. Be mindful of certain particularities concerning the WiFi network name and password
The Somfy Outdoor Camera does not support the following:
WPA-TKIP security protocol (this protocol is no longer supported by the WiFi Alliance)
WPA-CCMP security protocol (activated by default on certain free residential gateway boxes)
5.0 GHz WiFi networks
WEP keys with fewer than 128 bits
the characters "+" and "&" in the WiFi password during the initial installation (after installation and the first update, these characters are accepted)
the name of the WiFi (SSID) network and the password together must not exceed 45 characters in length
spaces in the name of the WiFi (or SSID) network and in the WiFi password
Lastly, when you are asked to enter your WiFi network password, be careful to avoid errors: be sure to use the correct case for each letter since it may contain upper-case and lower-case characters.
4. Check the quality of the WiFi connection
A good quality WiFi connection is needed for the camera to operate properly. If the previous steps failed, please install the camera again, placing it in the immediate vicinity of your residential gateway box (or WiFi router).
We invite you to check our tips about improving WiFi reception and positioning the Security Camera.
If, despite these recommendations, the installation is still not successful (the camera does not react, the LED is not flashing blue, the camera displays a steady green LED light, you are stuck on one of the steps), we recommend that you request a support ticket.