The video recording service is available for your Somfy Protect cameras (Somfy One & One+, Somfy Indoor Camera, Somfy Outdoor Camera). You can quickly and easily access the video history of your camera from wherever you are through your Somfy Protect application.
The video recording service allows you to record the last 7 or 30 days, depending on the option you choose in the available plans. This means that you can see exactly what happened in the previous 7 or 30 days at any time.
You can quickly find events thanks to the "timeline" displayed below the image. Event types are differentiated by colors and icons.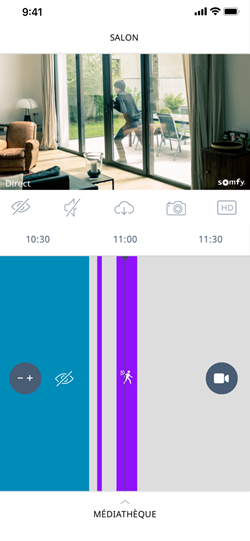 ・ Violet: Camera detected movement
・ Blue: Camera in privacy mode
・ Cyan Blue: IntelliTAG detection (if your camera is linked to Somfy Home Alarm)
Each event is also available in the gallery so that you can easily download it to your smartphone. The continuous video recording service is available à la carte and without obligation.
You can add this service to several cameras on your site. The service for additional cameras comes with a 50% discount. Please note, however, that you cannot have continuous video recording of 7 days and 30 days on different cameras.