What's Somfy Around™?
The Somfy Around™ community network ensures the encrypted and anonymous transmission of your alerts in case of WIFI network failure.
This free service is available if one of your neighbors is also equipped with a Somfy Home Alarm and has activated this service.
How does Somfy Around™ work?
In case of an unavailable WIFI connection, Somfy Home Alarm sends alerts through the SomfyAround™ network. Encrypted alerts (AES 256) are emitted through a revolutionary long-range radio technology (LPWA).
A Home Alarm neighbor receives an anonymous Somfy Around™ message and transmits it to the Somfy Cloud so that the alert can reach its recipient. By activating  Somfy Around™, you strengthen your security as well as the security of Somfy community users.
What type of alerts are relayed by Somfy Around™?
When a Home Alarm system loses its Internet connection and only functions through Somfy Around™, only critical alerts are relayed. Here's the list:
IntelliTAG - vibrations detection

IntelliTAG - opening detection

Detection of attempt at interference

SOS - silent alert

SOS - alert with siren

Autoprotection - IntelliTAG

Autoprotection - siren

Link - battery-operated

Link - power restored

Link - connection lost

Link - connection restored
How can I activate Somfy Around™?
On your Somfy Protect app, go to menu, then press on "Settings", then "Somfy Around™".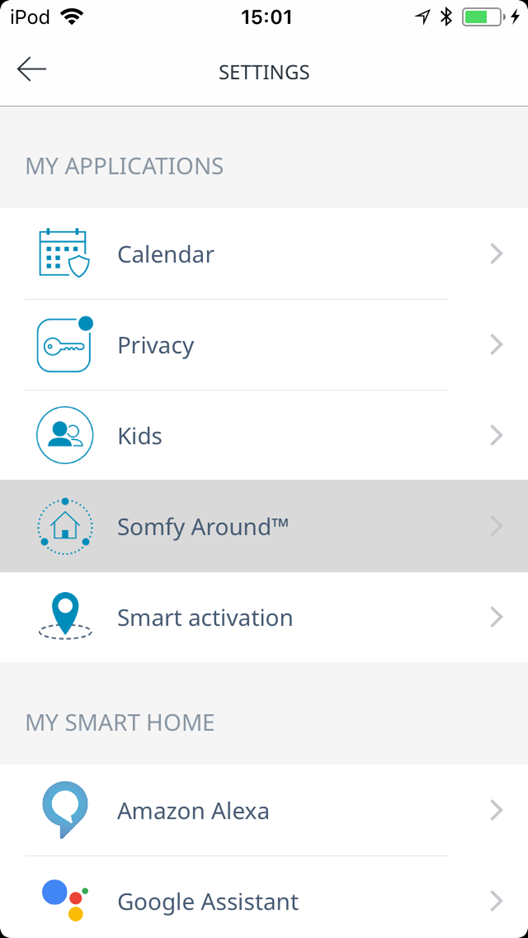 On the next screen, you can choose whether to activate Somfy Around™ for your system.