When you access your device, the screen remains grey and seems to be displaying no image.
Procedure
1. Opening/closing of the shutter:
First of all, please try to open and/or close your shutter via the App. If this is does not work, go to the next step.
2. Reboot the device using the application:
- If there is an Internet connection, we invite you to reboot the camera by going to the "My components" section of the application's "Settings" menu, then selecting the device that you want to reboot. You should see an "on/off" icon appear in the upper right-hand side of your screen. Press this icon and select "Reboot."
- If the icon does not appear, this means that the device is currently disconnected, so you cannot reboot it via the application.
3. Manual reboot with the pin (for Somfy One+)
Get the reboot pin supplied and insert it for a half a second in the hole located on the back of the device.
The device will reboot : the LED should be blue then flash white before remaining white.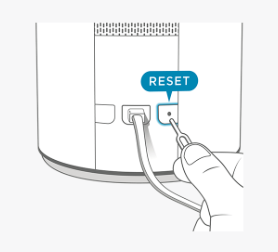 Unplug and plug back the Somfy One as it is equiped with a battery. It should reboot. 
4. Despite the reboot, the picture remains gray :
First be sure that your device is within good range of its Wi-Fi hotspot.
If the WiFi connection is good but the picture remains gray, we invite you to follow the procedure for installing or reinstalling the Somfy One / One+.
Related question